Explore Spectrum internet wifi plans
Spectrum offers a range of Internet and WiFi plans to cater to the varying needs of consumers. Customers can choose from plans with speeds of 300 Mbps, 500 Mbps, or 1 Gbps, with affordable Internet rates. Additionally, customers are given free access to advanced WiFi. The internet plans start at $49.99 per month for 12 months, and customers can explore the different prices and packages available to them. With no data cap restrictions, users are free to browse, stream, and play games without worrying about limitations. Furthermore, the Spectrum One savings program is available to eligible customers, while the Mi Plan Latino offers download speeds of up to 300 Mbps. It is no wonder that Spectrum is a go-to choice for many customers looking for reliable, fast, and safe Internet service.
| Spectrum One Plans | Price | Speed | Lines |
| --- | --- | --- | --- |
| INTERNET + WIFI + MOBILE | $49.99/mo | Up to 300 Mbps | Unlimited Mobile Line |
| INTERNET ULTRA + WIFI + Mobile | $69.99/mo | Up to 500 Mbps | Unlimited Mobile Line |
| INTERNET GIG + WIFI + Mobile | $89.99/mo | Up to 1Gbps | Unlimited Mobile Line |
Save up to $350 with Spectrum internet deals
1. "Speed up and Save" - Spectrum Internet offers speeds up to 300 Mbps to 1 Gbps to suit every household's needs. Sign up for the service and get FREE Advanced WiFi and a FREE Spectrum Mobile, saving you over $350.
2. "Affordable Connectivity" - Eligible households can subscribe to Spectrum Internet and save up to $30/mo through the Affordable Connectivity Program. The benefit appears as a credit on your bill, giving you additional savings every month.
3. "Internet Assistance for Everyone" - The Spectrum Internet Assist program offers high-speed & affordable Internet and WiFi for low-income households. Now everyone can enjoy reliable internet service at a low cost.
4. "Bundle Up and Save More" - Choose from Spectrum's most preferred packages and get a FREE Unlimited Mobile Line (over $350 value). For a customized solution, call (844) 533-0888 and speak to an expert.
5. "Get a Free Modem and Antivirus Software" - Save up to 60% on Mobile and get fast Internet at a great price! Spectrum Internet includes a FREE modem and antivirus software, ensuring you have a secure and reliable online experience.
6. "Switch and Save" - If you're looking to switch to a new provider, Spectrum Internet offers fantastic deals that are hard to resist. Switch to T-Mobile and get up to $650 per line paid off, or switch to Fios Home Internet starting at a low price, guaranteed.
7. "Exclusive Deals on Amazon" - Spectrum Internet Ultra is available with a 20% OFF PROMO, which saves you 20% Off When Buying $50. Additionally, you can get a $350 Reward Card or $350 off Verizon Stream TV, making it the perfect time to upgrade.
Spectrum Internet Discounts for everyone
Technology has become indispensable in our lives, and Spectrum Internet is committed to helping everyone stay connected. Through offering internet discounts for eligible households, they are making sure all their customers can work, learn, and access the world's knowledge with ease.
Spectrum Advanced WiFi Is Included with Spectrum One
With Spectrum One, you can now enjoy the convenience of having Spectrum Advanced WiFi included with your service. This advanced WiFi technology offers fast and reliable internet speeds, allowing you to stream movies and shows, play online games, and more without any lag. It also comes with enhanced security features to keep your connection safe from hackers. With Spectrum Advanced WiFi included in your plan, you can stay connected to the world without worrying about slow speeds or connection issues.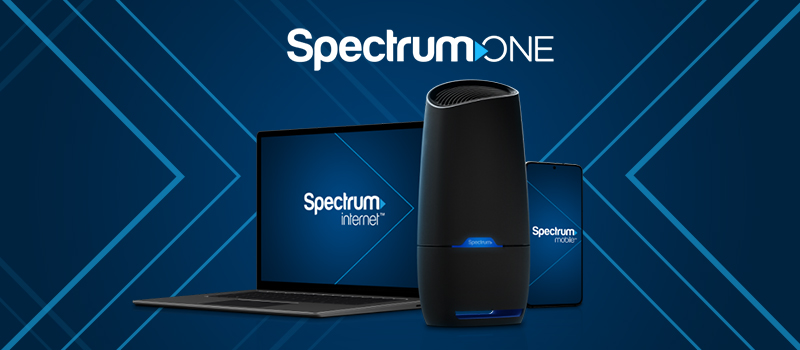 Manage Your Account with Spectrum Mobile App
The Spectrum Mobile app offers a convenient way to manage your account from the palm of your hand. With this app, you can easily check your data usage, view and pay your bills, and even manage your account settings. It provides a user-friendly interface that allows seamless navigation and control over your mobile service. Whether you want to monitor your data usage to avoid overages or make a quick payment to stay connected, the Spectrum Mobile app gives you the power to take control of your account with just a few taps.
Why Spectrum is America's Fastest-Growing TV, Internet, and Phone Provider
Spectrum has established itself as America's fastest-growing TV, internet, and phone provider due to its commitment to delivering reliable and high-speed services. With its extensive coverage and advanced infrastructure, Spectrum offers customers unparalleled access to a wide range of entertainment, connectivity, and communication options. The company's fiber-rich network enables lightning-fast internet speeds, crystal-clear TV signals, and reliable phone connections. Additionally, Spectrum's dedication to customer satisfaction is reflected in its exceptional 24/7 customer support and flexible service plans. Spectrum's continuous investment in cutting-edge technology and commitment to innovation positions it as the preferred choice.